Most people reason that a home inspection is not necessary for a new home. They have the illusion that many inspectors have gone by to make inspections of the progress. As a general rule the major builders built good sound homes, but as in all industries the problems arrive in the details. In the Houston area, buyers rely that City Inspectors have inspected the property and all components are well completed, not so. In Harris County and other surrounding Counties there are no structural or mechanical inspectors from the County to check the progress of the home.
The foundation on a new home is normally inspected by independent engineers prior and during pouring because the Builder is required by State Law to provide the consumer a ten year warranty the insurance company that issues such warranty will not issue the policy unless it is inspected by their inspectors. In Harris County the rest of the new construction there is no one from any governmental agency that checks up on the structural and mechanical integrity of the construction.
Specialty Inspections performs hundreds of new home inspections every year. We can report from experience that an inspection report on a new home is longer that a used home. It takes longer and there are more issues to cover. For new homes you must hire a Code trained and Certified Inspector in order that on each deficiency found he can quote the "chapter and verse" where the code states that a reported issue must be repaired.
The following are a few of the experiences we have found in new home construction.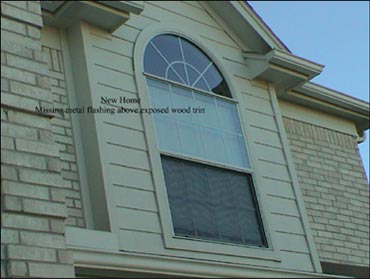 Missing metal flashing over exposed wood trim per code
will cause early wood rot of the wood trim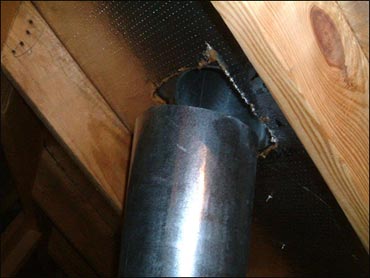 Improperly installed vent in the attic of a new home
A fire Hazard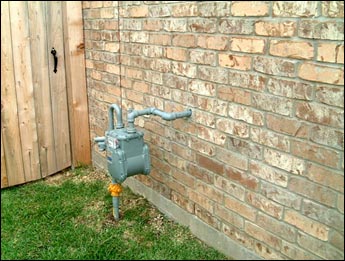 Missing Bonding wire at gas meter and gas lines in the attic as per code
A fire Hazard (IRC E-3509.6,7 & 8)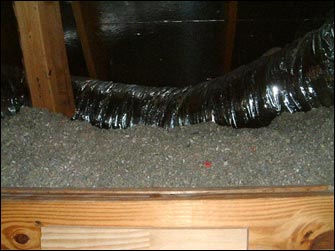 Missing a landing at top of attic stairs as per code - A hazard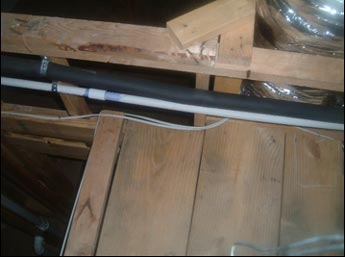 Improperly routed wiring, a hazard and a code violation
Six foot rule in the IRC code requires all wiring within six feet of the
Attic entrance to be protected (IRC E-3702.2.1)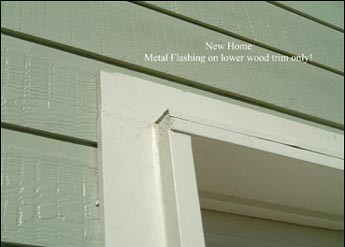 These two homes were side by side, however the flashing was improperly completed
on both homes, one had it on the bottom exposed wood trim and another on
the top wood trim, it must be on both as per code! (IRC R-703.8.1.4)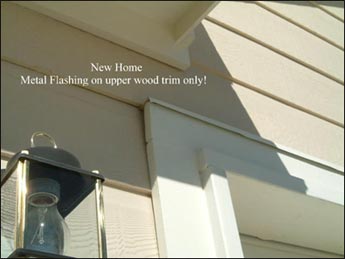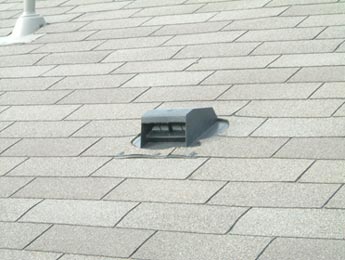 Proper Utility Room vent exhaust when routed via the roof
has a back draft damper and sealed as per code (IRC M 1501.1.3)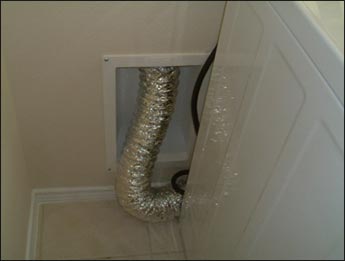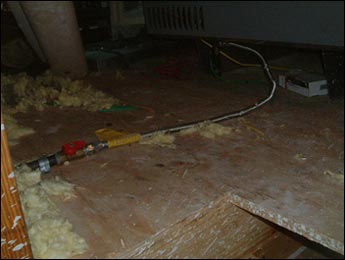 Gas line not protected a hazard and a violation of code (IRC M-1305.1.3)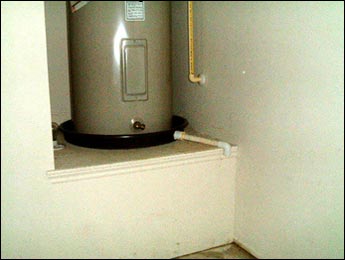 Improperly terminating drain line as per code (IRC 2803.6.1)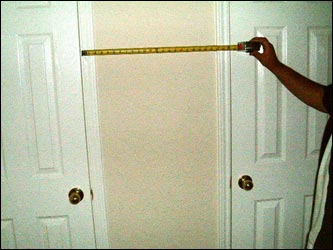 Missing a receptacle as per 12" rule/code (IRC 3801.2.2.1)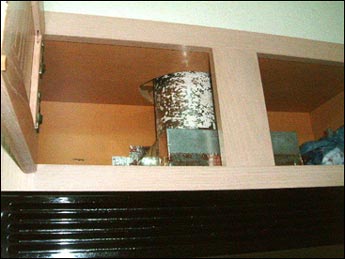 Improper vent, must be smooth pipe as per code (IRC M 1502.1 & 302.2)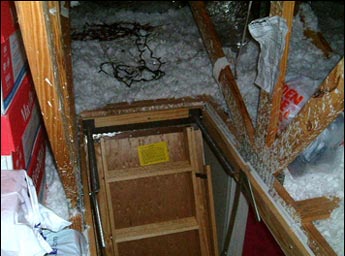 Missing Landing at top of stairs, insulation and weather stripping as per code
(IRC N-1102.1.10, M-1701.4X2, G-2406.2.5, R-311.5.4)
FOR MORE SEE THE FRAME UP SECTION